Team
Press Release: University of Michigan partnership
March 19, 2019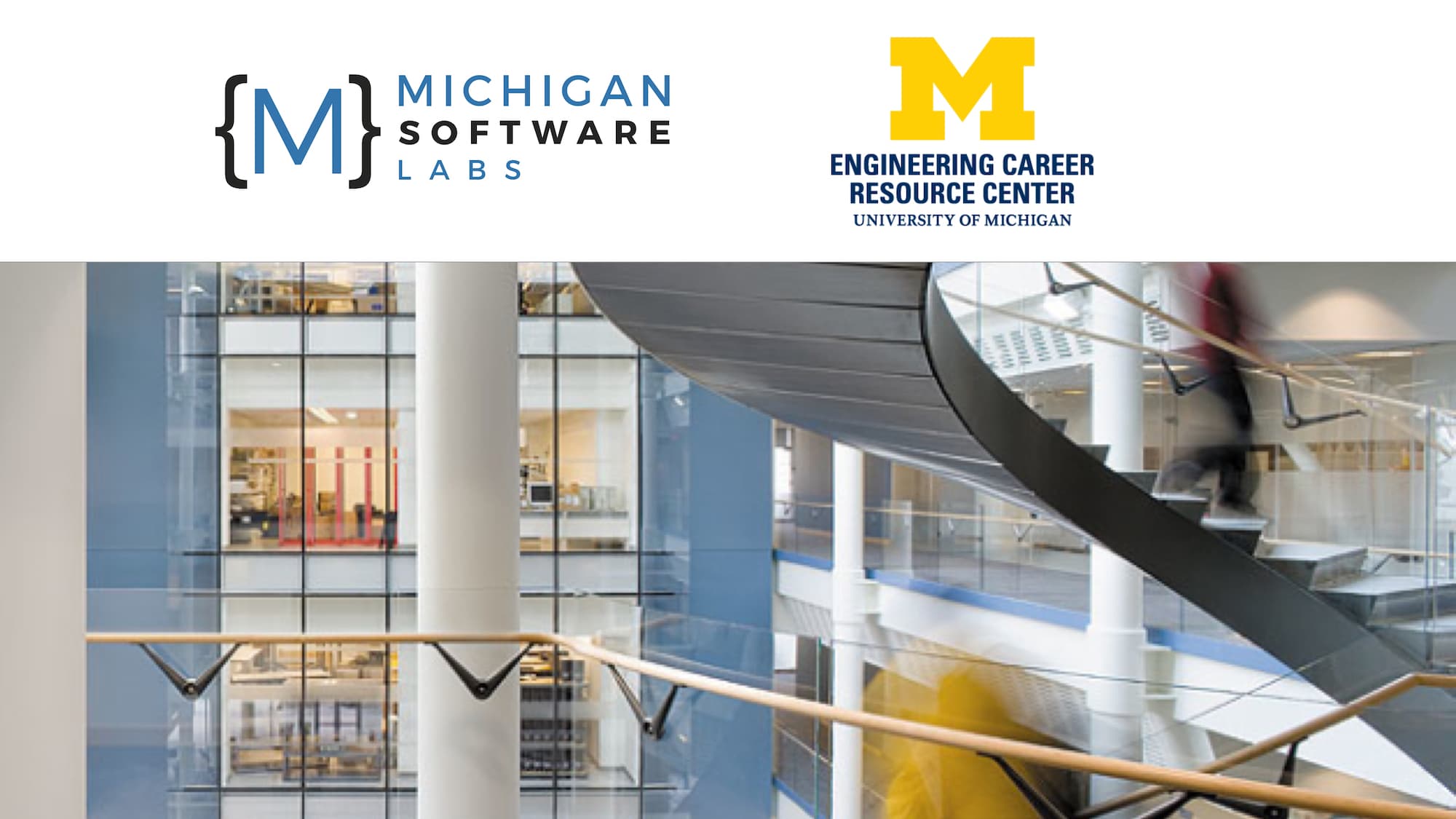 Olivia Adams, Byrum & Fisk Advocacy Communications, (616) 726-7705
Michigan Software Labs announces new University of Michigan partnership to expand talent pipeline Michigan Software Labs to offer career opportunities, hands-on training for University of Michigan students and graduates

GRAND RAPIDS, Mich. – Michigan Software Labs, an Ada-based software development company, announced today a new partnership with University of Michigan's Engineering Career Resource Center (ECRC) to help students prepare for careers in software development and increase job opportunities for graduates. "This exciting partnership with the University of Michigan is an opportunity to connect with students and expand our talent pipeline. University of Michigan partners with top tier companies across a number of industries and we are honored to be among those employers in this partnership," said Mark Johnson, co-founder and partner of Michigan Software Labs. "We are fortunate to have strong, local Michigan talent and this partnership will allow us to quickly build capacity, bring even more creativity to our team, and create more jobs."
This year-long partnership is part of U-M's ECRC Corporate Partner Program, which connects students with employers and opportunities to grow their careers. The program is available to more than 10,000 undergraduate, graduate and doctoral students in the College of Engineering at U-M. "The ECRC Corporate Partner Program provides an opportunity for Michigan Software Labs to enhance their brand presence at Michigan Engineering, while supporting our effort to prepare students for their transition from college to career," said Catherine Lund, senior career services manager at U-M. "We are fortunate to have strong Michigan-based technology companies like Michigan Software Labs that give our students increased access to employers and real-world experience."
Through this partnership, Michigan Software Labs will offer students an opportunity to work closely with senior developers and learn about the latest software development technologies. Michigan Software Labs will offer:
Career placement directly in to the software development industry
Job on-boarding and industry training
Continuing education programs for graduates looking to go back to U-M for additional degrees
Competitive salary and benefits
"Our engineers have a lot of autonomy and ownership on projects and get to interact with customers and clients daily, which makes careers at Michigan Software Labs rewarding," said Johnson. "This partnership is an opportunity for students to get hands-on experience and to stay in Michigan for a career in technology."
Michigan Software Labs develops software for mobile, web and Internet of Things (IoT) across a variety of industries. Michigan Software Labs serves clients ranging from locally owned businesses to Fortune 500 companies and has over five million end users. Michigan Software Labs is a leader in UX/UI design and custom software development and was recognized as one of the Top UX Design Companies in the U.S. by Clutch in 2018. ### Michigan Software Labs creates software your business can grow on. The company serves clients in many industries and markets to develop mobile, IoT, and digital experiences to delight users. For additional information, please visit www.michiganlabs.com or follow on social media @michiganlabs.
Photo credit: Tom Arban Photography, Inc. Used with permission. All rights reserved.
Stay in the loop with our latest content!
Select the topics you're interested to receive our new relevant content in your inbox. Don't worry, we won't spam you.
Let's start a conversation!