At MichiganLabs, we do our best to make sure everyone feels welcome. That includes clients, team members, and potential team members. We're highly driven professionals who care deeply about personal relationships.
Open positions
Bring your authentic self, and discover how you can contribute to the work and culture at MichiganLabs.
UX Designer
Crafting intuitive experiences through UX design ·
Associate (Intern) Software Developer
Write code, change the world ·
Getting ready for your interviews
At MichiganLabs, we celebrate the unique talents and potential of each individual. Our goal is to create a vibrant, inclusive environment where diverse perspectives come together to deliver exceptional client service and make our workplace richer and more dynamic. We're looking for smart, humble individuals who are driven to grow, demonstrate inclusive leadership, and possess strong problem-solving skills. We recognize that there are various paths to acquiring these attributes.
Remember, interviewing is a mutual discovery process. It allows us to learn about you as a person and a potential team member, while also giving you the chance to explore MichiganLabs, connect with our team, and envision your future with us. During your interviews, we'll ask you to share examples from your personal experiences. This helps us to see beyond your CV/resume and uncover the unique qualities you'll bring to MichiganLabs.
Our core values form the bedrock of our company and serve as the compass guiding each team member on their personal journey. These values are essential to our dual mission: empowering clients to achieve lasting, transformative results, and fostering a thriving workplace that attracts, nurtures, and retains outstanding talent.
We want you to feel excited and at ease during your interviews. Our interviewers are knowledgeable and empathetic individuals who are genuinely interested in getting to know you and addressing your questions. Our advice? Relax, be yourself, take your time, and don't hesitate to ask us questions too.
Here's what to expect during the interview process:
A friendly, introductory chat with our Head of People Operations & Talent Development
A "technical" Zoom interview to delve into your experiential skills and industry knowledge
Additional reference checks
An onsite interview and office tour
A meeting with the Managing Partners
Benefits
We are glad to offer competitive employee benefits. Keeping you happy, healthy, and rejuvenated.
Health insurance
100% employer-paid premiums for health, dental, and vision, available on day one
Generous time off
17 days Paid time off to start, 12 paid holidays, flexible weekly and monthly schedule
Remote work days
Hybrid schedule with the flexibility to work remotely twice a week, and up to 4 weeks remotely throughout the year
401K plan
Up to 4% company match, contribute on day one
Career growth
Annual Professional Development stipend for courses and conferences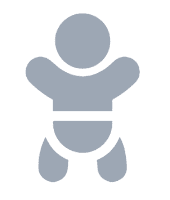 Parental Assistance
Paid Paternal and Maternal leave for new births and adoptions, and membership access to Tootris for childcare support
1
Build like we'd like it built for us
4
Grow through constant curiosity
From our team
"I really appreciate a culture that listens to their employees and helps them grow the company to accommodate their interests. That's been instrumental for me, to help me grow as a person and as a professional"
Development Practice Co-Lead
"Thank you for caring for us as people and not just coworkers. That's reflected in your celebrations, the flexibility and policies."
"My experience at MichiganLabs has been truly mind boggling. The work you do and the intentionality that you approach everything with, the desire to maintain that human element in tech is not just meaningful for me, but I think for everybody that comes in contact with our team."
From our team
"I can't imagine working anywhere else. I already felt very cared for as a person and as a human. Especially in [difficult situations]. Thank you for seeing us all as people and caring for us deeply. It means more than you'll ever know."
Jessica Lewis, Executive Assistant
"I never could have imagined working somewhere where the people in charge truly view their team as people and not just a number. I'm grateful every single day to be working here. I'm proud of the people that work at Michigan Software Labs."
Amanda Clouser, Development Practice Co-Lead
"You are so thoughtful about the decisions you make and the way you care for each of us at MichiganLabs. You treat us with individuality. I am really thankful for that."
Brittany Neudeck, Delivery Lead
Stay in the loop with our latest content!
Select the topics you're interested to receive our new relevant content in your inbox. Don't worry, we won't spam you.
EQUAL OPPORTUNITY EMPLOYER
Michigan Software Labs is an equal opportunity employer; applicants are considered for all roles without regard to race, color, religious creed, sex, national origin, citizenship status, age, physical or mental disability, sexual orientation, marital, parental, veteran or military status, unfavorable military discharge, or any other status protected by applicable federal, state or local law.