Team
Iulia Rontu to join leadership team at MichiganLabs
February 4, 2021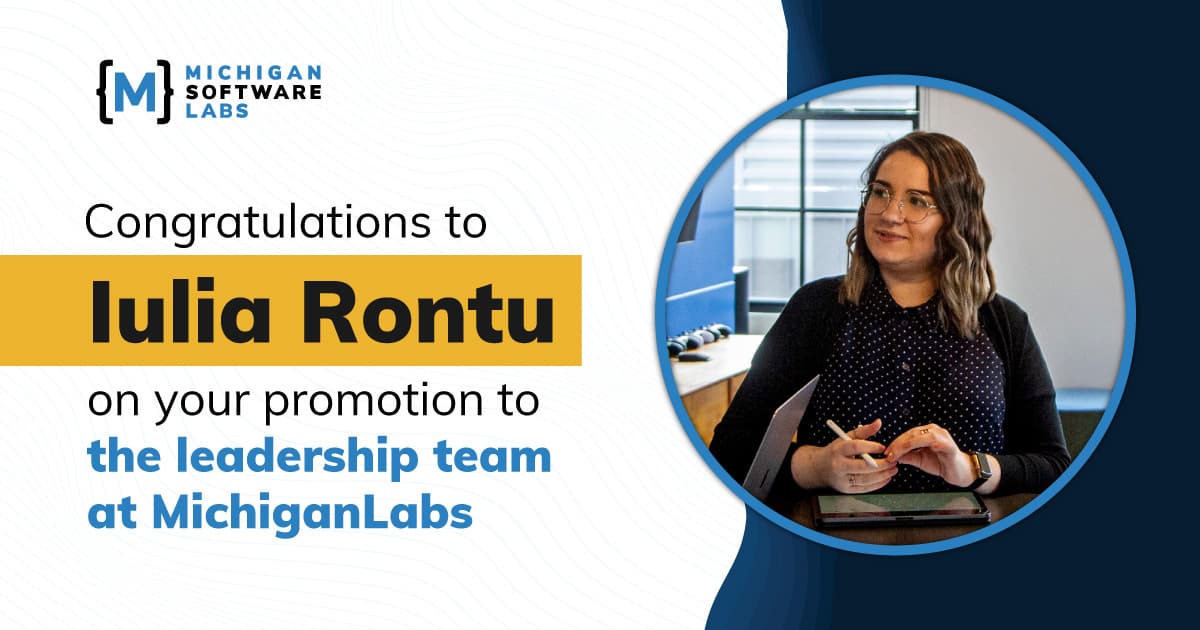 Iulia will be joining the leadership team at MichiganLabs effective Monday, February 8, 2021. Iulia has been with MichiganLabs for 2 years in May of this year. She is currently the UX Practice Lead where she helps define our user experience practice to help transform and delight our clients.
"We are so grateful to have Iulia as part of the team and now part of the leadership team. She is an excellent example of someone who lives out our core values. We are very fortunate to have her on the team and look forward to great things to come." Said Josh Hulst, Managing Partner at Michigan Software Labs.
Born in Romania, Iulia moved to Michigan when she was five then to Grand Rapids in 2011 to pursue a graphic design degree from Kendall College of Art & Design. From there, she continued picking up projects and honing her ability to communicate design and intent. Her goal? To use her "design powers for good" to solve problems and make people's lives just a little bit easier.
Prior to MichiganLabs, one of Iulia's most notable accomplishments was designing a personalized home screen for an app used for a national retail chain. During this period, she also worked with various teams to develop the design language used for the company's web experiences.
In joining MichiganLabs, Iulia was looking for a chance to have greater ownership of the product lifecycle. She also wanted to be part of a culture where growth and flexibility are encouraged and supported. As one of our user experience design leads, Iulia takes a human-centered approach to design to make technology feel more intuitive.
When not at MichiganLabs, Iulia enjoys teaching her pet budgerigar, Rudy, how to gently scream human words. She also likes to read up on user experience psychology, debate why forks are better than spoons, and volunteer unsolicited trivia about birds.
Stay in the loop with our latest content!
Select the topics you're interested to receive our new relevant content in your inbox. Don't worry, we won't spam you.
Let's start a conversation!