Team
Finding Connectedness During COVID
February 17, 2021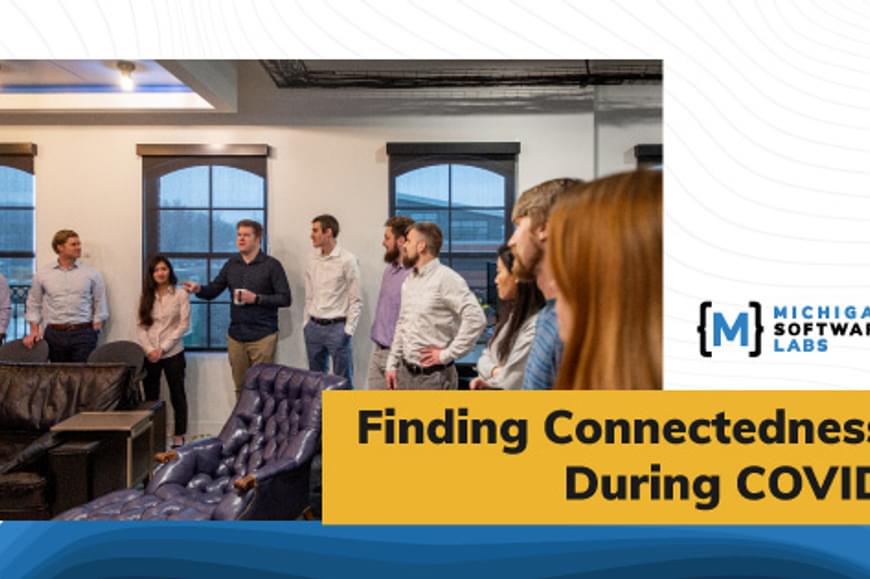 MichiganLabs consistently prioritizes our team's relationships with each other. We were well prepared for the technical switch to remote work, but the social side presented a new obstacle.

While in the office, we had biweekly team lunches provided and daily Super Smash Bros competitions. We had quarterly social gatherings with our families and various wellness challenges going. When the world was turned upside down last March, our team was well set up for the technical side of what we do, but figuring out how to make us feel connected over a long stretch of remote work presented a new obstacle.

Throughout the pandemic, there have been plenty of articles on making a smooth transition to remote work and keeping people engaged. Having spent countless hours reading them and attending webinars, I wanted to share what we've put into practice.

Initially, we did not realize we would not be in the office together for almost a year, so the things we did to connect were smaller-scale. One example is themed standups: the beginning of last March was heavy on themed stand-ups where we would set our background to reflect our favorite songs, movies, beaches, etc. While these were entertaining and people got to know each other better, it quickly became apparent that we needed to balance the need for connection with available mental bandwidth.

In no particular order, these are the top 6 things that I believe have worked for our team:
Diverse Monthly Events. We went from doing quarterly team events to monthly, with each one catering to different talents and interests. These have included a paint night, virtual escape rooms, a virtual murder mystery party, and--my personal favorite--a niche PowerPoint night. Participation energy and levels increase when we have a set activity rather than jumping on for a basic virtual happy hour. It takes away the pressure for one person to keep up the conversation and makes it feel a little different from our already Zoom-heavy days.
Bimonthly treat drops. MichiganLabs stocks its kitchen full of snacks and treats and it is a fun perk to working here. But, when we moved to all remote, we no longer had the salted caramels and array of soda just steps away. Last April I volunteered to do a "snack drop" and now it has become a tradition. Each month, our team members will get a goodie bag containing different treats and sometimes random gifts (one month everyone got a succulent). We also do a treat drop at the beginning of the month for our celebration of work anniversaries and birthdays!
"Water-cooler" chats. At the start of our quarantine, we had a Zoom room that was open all day. In the beginning, it was highly active, and people would stay in all day or hop in and out per their availability. By May, however, Zoom fatigue was hitting us hard, and like everything else, the friction of participating outweighed the potential benefits. That is where Hallway, a Slackbot app, came to the rescue! We have been using the Hallway App for sporadic, 10-minute conversations since October. Knowing they won't get stuck in a call longer than wanted (because the app forces you out) has encouraged our team members to join in.
Flex Fridays. MichiganLabs has always provided our team members with flexible work schedules, but this year our leadership team sought to allow for even more. At the beginning of last summer, the concept of "Summer Fridays" was introduced, allowing team members to take off early on Fridays to kick-start their weekend. The positive response encouraged leadership to make this a forever thing, thus the title change from "Summer Fridays" to "Flex Fridays." This extra boost allows for us to take a little more time to ourselves, without dipping into our PTO

Celebrating Team Wins. Celebrating team wins has been key to encouraging our team members to continue working hard. From smaller group happy hours to at-home challenges with the chance to win some merch, the extra encouragement allows us to acknowledge little victories and create small pockets of connectedness.

Work-from-home budget. Another notable action our leadership team took was providing a work-from-home allowance. Each member was provided with a $1,000 budget to spend on making their home office an environment they could thrive in. It was something the team appreciated and allowed for some creative problem-solving. We will be posting a list of the most popular items purchased later this month on social media.
Our team has implemented other ways to continue our connected culture, but these are the six I believe have proved the most successful and impactful during the whirlwind of 2020.

What has your team done to shift to remote work? Will you bring any of the new practices when you return to the office? Let us know! We are always looking for new ways to provide value to our team.
Stay in the loop with our latest content!
Select the topics you're interested to receive our new relevant content in your inbox. Don't worry, we won't spam you.
Let's start a conversation!