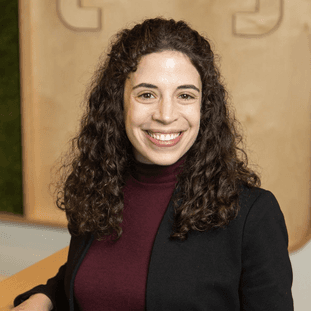 Tina Kaloush
Associate Software Developer
Though she had a range of interests growing up, Tina gravitated toward a degree in math based on her love of problem-solving. After earning a BS at Grand Valley State University, she found herself moving away from roles that seemed cubicle heavy toward people-centered roles that played to her creative strengths.
While working for a variety of nonprofits, she began to identify inefficiencies which she would then solve using tools like Excel. Through these experiences, Tina stumbled across computer science, a subject that combined problem-solving, lifelong learning, creativity, and connection. She was so hooked on it, she pursued a master's degree.
As an associate software developer at MichiganLabs, Tina appreciates not only the technology and apps we build, but also how employees and clients are cared for in an authentic and intentional way. She feels grateful to be in a place that puts people first and encourages her creative and analytical sides. Plus, it's also nice being able to freshen up on her ping pong skills.
Outside the office, Tina enjoys learning in all forms, whether it's curling up with a good book, solving crosswords, browsing AskHistorians, or finding creative ways to win at Scrabble. She stays active running, hiking, playing soccer, and cycling. When it's time to relax, there's no better place to be than in the woods camping with friends and family.
Personal interests
Family & Friends
Camping
History
Running
Let's start a conversation!