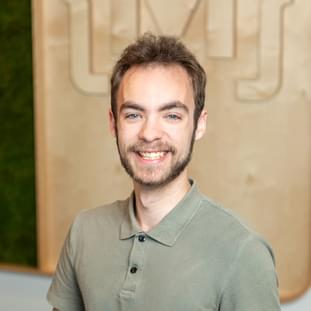 Cameron Sprowls
Software Developer
Cameron's interest in computing began in high school when he randomly glanced down at a friend's laptop and saw what looked like code. Wanting to learn more about it, he and his friend enrolled in a few courses at the local community college, which was conveniently located next to school.
After high school, the two attended Grand Valley State University together where their interest in coding took off. With a focus on computer science, Cameron's coursework included everything from complex router simulation to fun projects like creating text-based games.
Toward the end of college, Cameron interned as a software developer. The experience taught him that communication is the absolute key to success. In the same role here at MichiganLabs, he loves coming to work each day and solving problems in new and unique ways. As he says: It's not work if you love what you do.
When not loving what he does for a living, Cameron stays active playing Ultimate, ping pong, and powerlifting with friends. One little known fact: Cameron is big on musicals. He performed in four of them in high school. So, if you happen to catch him belting out a Dear Evan Hansen tune in his car, well, you've been warned.
Personal interests
Computer Science
Ping Pong
Musicals
Let's start a conversation!