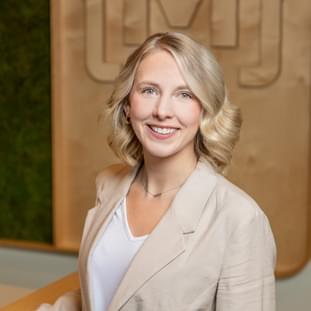 Brooke Westdorp
Delivery Lead
Brooke is a people person, one who has always been creative, organized, and a tad bit competitive. To find a career that would match these qualities, she studied interpersonal communications and psychology at Alma College. Like a lot of us at MichiganLabs, she wanted to be part of a team that could make a difference in the way people live their lives.

Prior to MichiganLabs, Brooke spent five years on the corporate side of Meijer, where she developed a wide base of knowledge serving as a business analyst. In the process, she honed her skills in analytics, communication, and organization. Combined, these skills formed a strong foundation for her current role as a delivery lead.

Before coming on board, Brooke had been hearing good things about MichiganLabs from a friend who worked here. When an opening aligned with her skills, she jumped at the opportunity. After her first interview, Brooke realized it wasn't just the position she was interested in, but also the people she would be working with. It was also refreshing to be at a place that emphasizes work/life balance.
Outside of managing projects, the former college softball player spends the majority of her time looking after her toddler. She and her husband even have a goal of getting the little guy on a snowboard in the next year. Together, with their German Shorthaired Pointer, they love playing frisbee, hiking, and camping. Wherever they go, there's no shortage of dad jokes. Brooke likes her humor corny.
Personal interests
snowboarding
softball
dad jokes
Let's start a conversation!