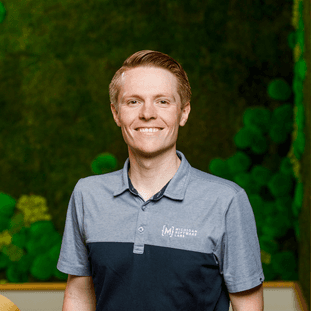 Brad Cooley
Software Developer
Brad's interest in computer science dates back to the sixth grade when he designed his first website for a class project. Built using HTML and CSS, it was gratifying to see the tangible fruits of his labor. By eighth grade, he had designed an app to aggregate homework assignments from various classes. And by junior year, he had written his first published app that used crowdsourcing to determine restaurant wait times; written in Swift, it won the inaugural Congressional App Challenge in his home state of Colorado.
Brad went on to double-major in computer science and data science at Marquette University. While there, he became heavily involved with the Association for Computing Machinery (ACM) where he wrote Abacus, a programming competition platform. To date, the platform has served thousands of high school students in Wisconsin and Indiana and was even turned into a class at Marquette.
After college, Brad was hired as a data engineer at Steelcase while working towards his Master's in Computer Science from Indiana University. During his nearly two years at the company, he made a significant impact on the retail end of the business as one of the primary architects of a new data platform. The knowledge he gained was invaluable. From there, his path to MichiganLabs seemed like a matter of fate.
While getting coffee and ice cream in Ada, Brad and his fiancé parked outside MichiganLabs. The company logo intrigued him enough to hit "follow" on LinkedIn. He thought, "If a role opens up, I'll apply." When the software developer position was posted, he didn't hesitate. During the interview process he was struck by the level of human connection. He was thrilled to find a company that cares about the whole person and not just the work side.
Outside of work, Brad is committed to the cause of leaving the world a better place. He donates time and resources to Leave No Trace and Keep Trails Open. Along the way, he enjoys skiing, hiking, paddle boarding, and following the Denver Nuggets and Marquette Golden Eagles. Over the last six years, he has called six different states home: Colorado, California, Wisconsin, Massachusetts, Indiana, and now Michigan. Let's hope he makes this one permanent.
Personal interests
skiing
paddle boarding
sports
Let's start a conversation!