Business
Why Your Business Needs to Be In the App Store—Yesterday
January 20, 2021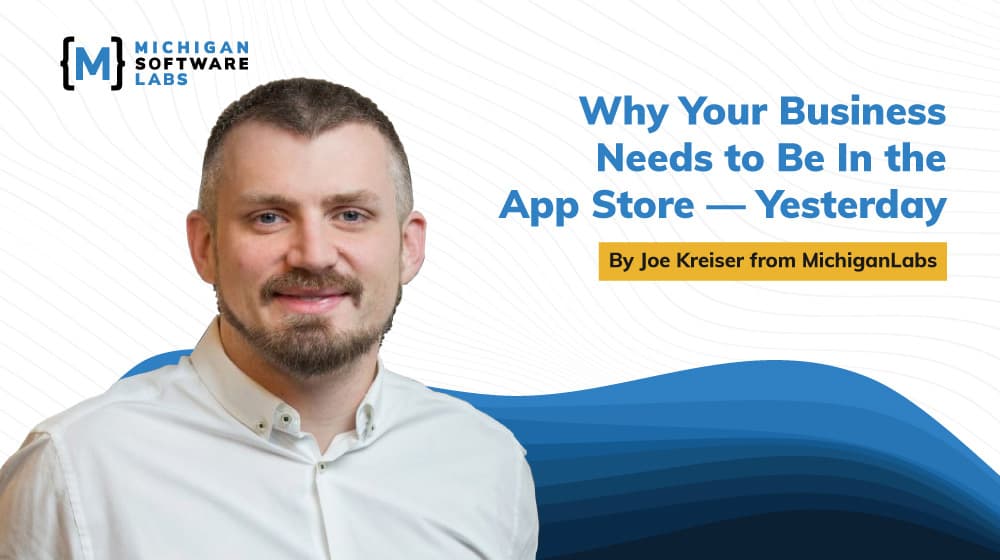 Whether you're a Fortune 500, a startup, or somewhere in the middle, there are countless reasons to consider developing a mobile smartphone app. From giving customers a more complete brand experience to gaining credibility in the marketplace, here are just a few of the benefits of having an app.
More people are on them

Mobile devices are in the hands of billions of people and that number is only growing. It's been four years since mobile devices overtook desktop computers for online use. These days, smartphones are the only way to access the Internet for many users. Based on numbers alone, it's vital to establish your presence in the mobile market.

Services are more accessible

Accessing services via a website means opening a browser, navigating to your website, and logging in, can sometimes prove surprisingly challenging for those who aren't tech-savvy. However, when your services are available via an app, users can simply click an icon and have immediate access to your services (since they will most likely already be logged in). Apps reduce the "start-up inertia," or barriers, for users to get to what they want.

Greater visibility for your business

Being on the Apple App Store, Google Play Store, or Amazon Appstore is a great source of visibility for your brand. In fact, mobile users are as intimately familiar with these stores as their favorite search engine (since their favorite search engine often leads them to these app stores). So, whatever importance you place on appearing on Google, Bing, or Yahoo ought to be the same for showing up in app stores. And did we mention being in an app store increases your SEO? Another key consideration.​
More legitimacy in the marketplace

If it seems like everyone's got an app these days, it's because they do. Now more than ever, your presence in app stores reinforces the legitimacy of your brand. Not having an app is like someone not having a social media account. The mere presence of your app on a user's phone gives them an awareness of your brand, serving almost as a mini advertisement.​
Apps can work offline

By their very nature websites can't function without an Internet connection. Meanwhile, a mobile app is perfectly capable of operating offline. While it may not be able to perform tasks requiring a network connection, it can still play downloaded videos, games, or provide GPS (which doesn't require a network connection).​
A mobile app made with offline data-syncing functionality can download data while it has a network connection, then use it while offline. Google Maps is a good example. Since GPS doesn't require a network connection to operate, you can use the app to get directions within the maps you've downloaded (just not the live information, such as traffic updates).
Cascade Engineering tasked my team with developing a mobile app that could use an RFID reader to track waste bins distributed to and from homes and businesses. The idea was to enable workers without a mobile connection for long stretches of time, yet still needing to track and record which bins were delivered or retrieved, to be able to report this information to their server. Over the course of a day, the app would queue up all of the necessary tracking information, then automatically sync it with their server once they were connected.​
Face ID and Touch ID

Mobile devices are increasingly coming equipped with biometric scanners, such as Face ID and Touch ID, which identify users simply by scanning their fingerprint or face. It's one more reason more and more users are turning to mobile apps.​
Push notifications

Push notifications, the messages that pop up on your mobile device when you receive a text or email, are easy for an app to employ. On Android devices, push notifications come automatically enabled, while on Apple devices users are prompted to allow them. Getting your website to show push notifications is a whole different animal. With Apple, these notifications aren't yet possible on browsers, but they are gaining traction. For Android devices, users can choose to allow push notifications on leading browsers, such as Chrome and Firefox.

Geofencing

Geofences are virtual boundaries laid on top of real-world geography. An app can use a device's GPS to indicate when a user has entered/exited a defined area and share points of interest. At Michigan Software Labs we developed an app for Diocesan called myParish which gave users the option to be reminded to silence their phone when it detected that it was within the vicinity of their church. Geofencing can be used for a variety of applications, such as alerting customers of offers or discounts in a particular area. Burger King went so far as to use geofencing to lure customers away from a McDonald's by offering them a one-cent burger when they got within 600 feet of the Golden Arches.

Bluetooth Beacons

Bluetooth beacons allow businesses to engage with customers to enhance their shopping experience. Urban Outfitters set up Bluetooth beacons in some of their stores that would deploy coupons, membership ID reminders at the checkout, and even encouragement to share outfits on social media. For customers, it's nice knowing about discounts on items just footsteps away, or getting the inside scoop on in-store events, or even getting a hand with navigating the store.

Augmented Reality (AR)

Web apps are getting closer to being able to use augmented reality (AR) in the same manner as a mobile device. But, for now, mobile apps still provide the easiest access to this new reality. For example, mobile devices can use cameras and gyroscopic hardware to determine a device's viewpoint and orientation. This makes it possible for users to spot a Pokémon hanging out in their backyard, imagining the layout of pieces of furniture in your living room, or set up a virtual treasure hunt for your friends. One note: if your business would benefit from AR, a native mobile app is a way to go.

What not to build
For a while, companies were building apps simply as a means of viewing their websites. Lately, Apple and Google have been cracking down on "web-view" apps, which add no value beyond what web browsers already provide. An app should be and is required by Apple to be more than a wrapper around a website. And, really, shouldn't we all be thinking of ways to give customers a more enriching experience?​
Is an app in your future?

Having an online presence is a given for any business these days. The same holds true for having a mobile device presence. Not sure where to start? Our teams at Michigan Software Labs will work with you to find a solution that serves your customers and gives your business a competitive advantage. If that sounds like a win-win, it is.
Stay in the loop with our latest content!
Select the topics you're interested to receive our new relevant content in your inbox. Don't worry, we won't spam you.
Let's start a conversation!