Web
The Future Of The Healthcare App: New Ways To Engage Patients And Doctors
April 1, 2020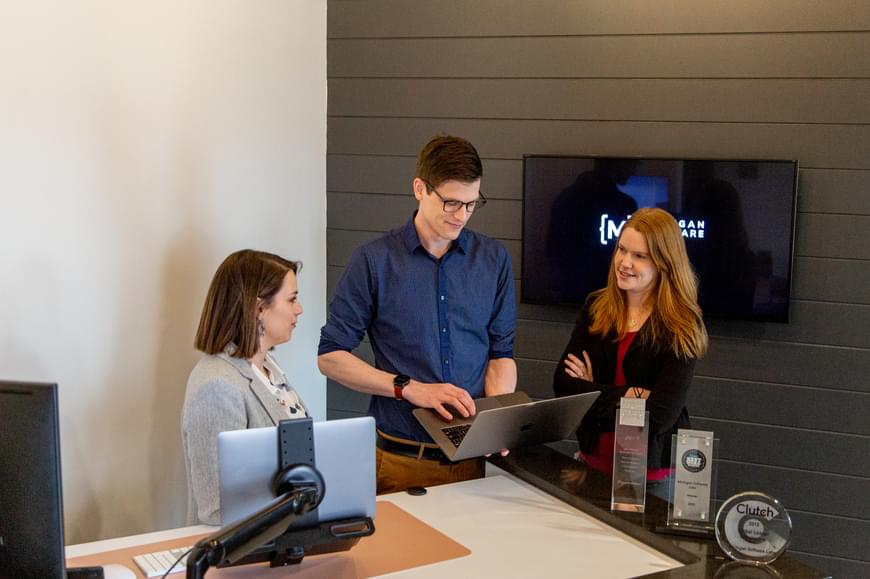 It wasn't until the recent events surrounding COVID-19 that I began to consider how apps can help improve the healthcare process. As someone who is purely an app user (not a developer), I decided to use some of my social distancing time to research healthcare apps and better understand where the opportunities lie.
In my research I discovered apps that let me talk to my doctor, check lab results, and schedule appointments. Meanwhile, my provider can use apps to cut down on paperwork and keep in better touch with patients. I also found apps that simply serve to promote public health.
Since there is a glut of healthcare app information out there, I decided to focus on my most pressing questions: When do healthcare providers use apps? Are healthcare apps FDA approved? and How do I ensure my healthcare app is HIPAA Compliant? These seem like pertinent questions for anyone thinking of building a healthcare app. And, when you consider the healthcare landscape, there's never been a better time to design one.
Experiencing A Healthcare Boom
While there are many healthcare apps currently on the market, the need for custom healthcare software continues to rise, especially in light of the fact that the U.S. healthcare industry is expected to grow 5.5% each year and will likely hit the $6-trillion mark by 2027 (Forecast Summary). That is impressive growth.
If you are considering building a custom healthcare software, there's plenty of opportunity to go around. But, first, it's important to look at the markets. Healthcare app users primarily fall into three groups: providers, patients, and the general public. Like any other app, the most successful healthcare apps fill a void. Mobile MIM, Diabetes Manager by WellDoc, and AliveCor to name a few. I decided it would be useful to know the most common uses of apps within the medical community. According to the National Institute of Health (NIH are the people who fund medical research) there are five basic reasons healthcare professionals use apps:
Administration
Health record maintenance and access
Communications and consulting
Reference and information gathering
Medical education
Let's explore how each of these can improve the healthcare experience.
Helping Doctors Serve Patients
The healthcare industry is trending toward greater patient focus. Patients over Paperwork is an example of this evolution. After all, paperwork isn't why people get into healthcare. By removing unnecessary administrative tasks, healthcare professionals improve patient experiences by reinvesting that lost time back into the patient.
More and more apps are focusing on a patient-centered model of care. Today's healthcare systems are offering software that allows patients to view lab results, request refills on medications, and communicate with healthcare providers about concerns that may not require an office visit.
MyChart is one of the most widely used mobile medical apps allowing this seamless connection between patient and provider. For patients to be able to say, "My medication isn't working; can we figure something else out?" is so much easier, faster, and cheaper than scheduling a traditional appointment.
MyChart also makes life better for providers. After all, doctors and care teams are constantly on the move. The convenience of mobile healthcare apps fits in well with an average workday. The increased accessibility allows doctors to respond in a timely manner to their patients while still completing in-house tasks, such as documenting patient needs and updating medical records.
The upshot? Healthcare apps are enjoying mass adoption as a tool for decreasing non-essential doctor visits, increasing efficiency and affordability of care, and streamlining the entire patient care process.
Healthcare Apps As A Point-of-Reference
Another heavy-hitter category for medical professionals is point-of-reference apps. This software ensures medical professionals are using current research when it comes to diagnoses and management. Epocrates is a good example. The app gives doctors and pharmacists clinically relevant patient information to help them determine the best possible patient prescription.
Healthcare Apps That Promote Public Health
Of course doctors aren't the only ones offering guidance. Public health workers educate and empower individuals on a wide range of health issues. Many are turning to healthcare apps to gamify key health information for patients.
For example, the Center for Disease Control (CDC) has apps that teach children about various health issues, including topics as relevant as the COVID-19 pandemic. Solve the Outbreak encourages children to work as detectives to figure out how to stop the spread of a disease. It's an engaging way for kids to apply their learnings to real life.
Public health apps also find other novel ways to promote a healthy lifestyle. From step counters to sleep and heart rate monitors, these apps make personal health maintenance easy and accessible. Symptom trackers and medication managers also help doctors make more informed diagnoses and write more effective prescriptions.
With education at the forefront, public health apps empower users to understand their health, offering preventative solutions that help people lead a healthier life.
Are Healthcare Apps FDA Approved?
When I began researching this post, my first question was how the FDA can regulate and approve healthcare apps. The answer? A 45-page guide on how and what it controls. And most all of it boils down to these simple questions: "Could any part of your software pose a threat to patient safety?," "Does your app regulate medical equipment?" and "Is your app diagnostic?" If your answer is yes to any of these, you will need FDA approval.
As a consumer, I realized that the FDA does not regulate most of the apps I utilize; however, for those looking to develop a custom software solution, this is something to look into more closely. Regardless of FDA compliance, all healthcare apps that transmit important and personal information must comply with HIPAA.
How Do I Ensure My Healthcare App Is HIPAA Compliant?
Whether you're a consumer or provider, HIPAA is a big deal. HIPAA protects the patient's private information, while granting access to his or her own health information. Here is a helpful infographic to better explain what HIPAA entails as a patient.
So how do healthcare softwares ensure HIPAA Compliance? Healthcare apps need to guarantee total security. All messaging, information storage, and hosting must meet a high level of safeguards and protection. Likely, the software will need updates and continuous security maintenance.
This is where professionals, like my coworkers, come in! You don't want any shortcuts taken when privacy is at stake, and this is especially true when it comes to healthcare software.
Healthcare App Definitions
There are different types of healthcare app classifications. Below, are the definitions of those that are most frequently used:
What is the definition of eHealth? * eHealth is a broad term with various interpretations; however, the most prominent definition is anything that delivers medical information or assists healthcare professionals in organizing charts.
What is mHealth? * mHealth has various meanings, but the underlying explanation is technologies supported through mobile devices that encourage medical and public health. It can include MMA (mobile medical apps), wearables, and even text reminder systems. For example, I found out that my Apple Watch classifies as mHealth because it can measure my blood pressure or remind me to stand up throughout the day.
What is telehealth? * Telehealth is a broad term that refers to anything health-related done remotely. Under this umbrella, you will find clinical services, such as video appointments as well as provider trainings, meetings among healthcare providers, and other medical training resources. When referencing purely clinical services, telehealth is referred to as telemedicine.
With the COVID crisis, healthcare systems are frantically changing as many appointments over to telehealth as they can. Chances are, if you have an appointment in the next few weeks, your doctor will be meeting with you via videoconferencing.
What is Femtech? * Femtech comes up often. As a fast-growing sector of healthcare software, it encompasses anything that helps women with their specific healthcare needs. Some examples include period trackers and apps that allow you to get a prescription for birth control without a clinic visit. I began my research with a few basic questions. This soon led to an overwhelming amount of information around building custom healthcare software. It will be interesting to see if attitudes surrounding telehealth and eHealth shift in the wake of COVID-19. Will people be more or less likely to seek it out based on the epidemic? And will health care providers who may have had doubts in the past begin to adopt remote solutions more frequently?
What's not in question is the need for healthcare systems to put greater energy and resources into providing comprehensive care, electronically. We're only at the beginning of what's possible in the patient-focused model of care. As the COVID-19 outbreak has demonstrated, we need better answers—solutions that close the distance between patients and caregivers. An app is a great place to start.
Stay in the loop with our latest content!
Select the topics you're interested to receive our new relevant content in your inbox. Don't worry, we won't spam you.
Let's start a conversation!