Business
Design
Process
Product Strategy
November 22, 2022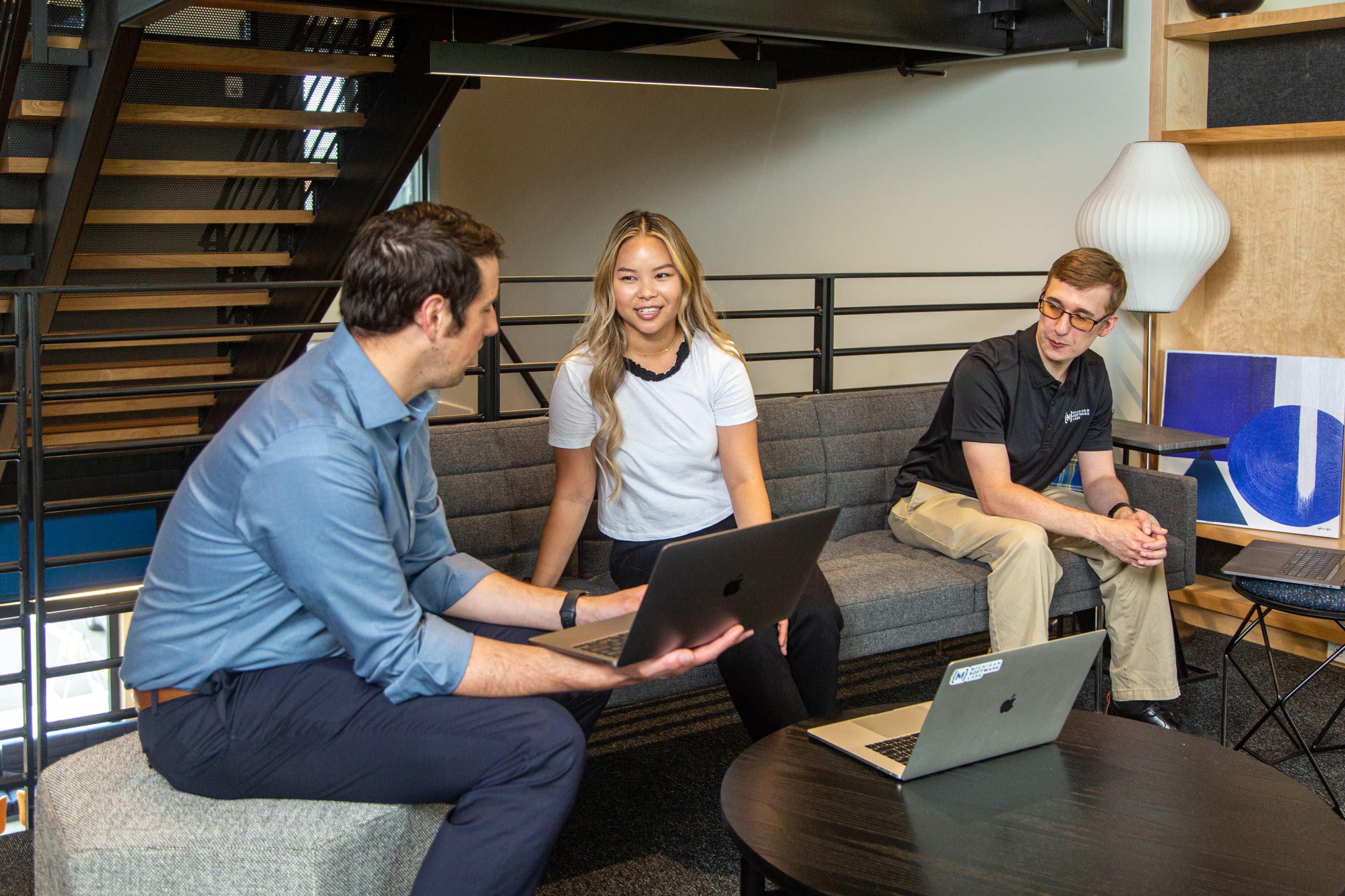 Why We Do Product Strategy
The Product Strategy phase is designed to set you, the client, up for a successful launch of your digital product. It provides you, the client, with a trial run of what it is like to work together. As an outcome, you get to have a written plan for development and an initial UX screen for your digital product.
What is Product Strategy?
Product Strategy is a proven process for digital product development. The overall goal is to help you zero-in on the issue you're trying to address and identify what success looks like. The vast majority of the time, a well-run Product Strategy would look something like this:
Help you understand what a software development project looks like, and how it operates

Identify what success looks like by establishing key metrics and deliverables that will help everyone involved stay focused throughout the project

If relevant, review your existing app's code for viability, usability, etc.

Clearly identify phase 1 features of a project

Clearly identify a design plan, i.e. estimates for design work, similar to a dev estimate

Provide one or two "hero screen" to help you visualize their product

Recommend a development and release plan for phase 1

Provide a product roadmap showing what would come next for development, based on an understanding of the project today

Help you think about maintaining your app long-term
What Product Strategy is not
While the below are definitely things we can do for our clients, they don't fit within our standard product strategy offerings.
A complete UX design for an app

List of all possible product features

User research/prototyping

Software development
How we approach Product Strategy (mindset)
Product Strategy is a blend between execution and new client onboarding. It is generally just a 3-week phase, so it is a quick sprint. A small amount of time with the goal of creating the most value.
What this might look like:
Work to understand what your biggest pain points are today and what those pain points mean for your business in terms of time and money spent, headaches from poor processes, missed revenue opportunities, etc. It's likely the cost of the project will be far less than their cost of doing nothing.

Test out our knowledge and expertise. We are not experts in your industry. Our team is good at what we do, and we can help you on your software development journey.

Expectations Management. We get a sense during Product Strategy of what it is like to work together. Since Product Strategy can sometimes feel a little nebulous, we want to make sure we set clear expectations up front, and stick to the agreed-upon deliverables.
How we execute Product Strategy well
Strong execution starts by making sure the project is a good fit for both you and MichiganLabs. We do our best to set the team for the project in a way that provides our team members exciting opportunities without sacrificing the health of other projects. Getting these two elements right will set the foundation for success. From there, each project will have it's own unique cadence, but below are some best practices for getting the project started on the right track:
Internal Kick-off
We start with the context for the project. Either the delivery lead or Partner/Principal will start by explaining why you came to us, what problem you're trying to solve for, and how we plan to go about helping you.

Next, we identify the key players. It helps when we know your team inside and out. We also consider your preferred communication styles of each individual on your team so we can work with each of them effectively.

We establish clear project timelines. There are likely important deadlines for you as it relates to going to market or getting project approval or funding. MichiganLabs will also likely have deadlines we need to stick to in order to meet other project staffing requirements. Being clear about this up front will help us stay focused on serving you well, especially as we encounter curve balls in the product strategy process.

We will spend some time discussing billing and time tracking. With shorter projects and tighter timelines, it's really important to be tracking time very regularly, ideally daily. Another way to help manage tighter budgets is to think about meeting attendance, and who needs to be at what meetings.

We will clarify project roles for everyone on the team. This is a great time to make sure everyone understands the part they play, and expectations for who owns specific deliverables.

We begin drafting questions we want to ask you. The early stages of product strategy are filled with question asking and pushing for more clarity about the problem, users, existing tech stacks, potential roadblocks, etc. We are prepared to come to the external kick-off with a good list of questions that will make for a great start to the project.

We work together to build an agenda for the external kick-off meeting. This could include who will lead certain parts of the conversation, timing for each part of the meeting, key pieces of information we need to leave with, and more.
External Kick-off

Let's start with introductions. You will likely know some of the people in the room from the initial process, but it's important for relationship building and expectation setting that everyone knows each other in the room, as well as each person's role for the project.

Let's restate the goal of product strategy. When a project is in this stage, things can change quickly, so making sure that everyone is still aligned at the outset of the project is important. This is also a good opportunity to make sure everyone is still on the same page about what's in scope/out of scope.

We will have you spend some time casting the vision for the project. This entire meeting will require a lot of listening from our team, and this is a good opportunity to allow you as the client to talk about your passion and answer questions like: "why are we here?" and "what will it look like/feel like/sound like when the development project is done (at least for MVP)?"

We will help set a target by defining success for the project. Some of this we may be able to glean from listening to you talk about their vision for the project, but we will also use our experience from other projects to think about how we could measure the impact of the project. Success can come in many forms, and depending on your preferences it could be KPIs, specific deliverables, a development plan, or something else entirely.

We will spend the majority of time asking you questions. We will push you to provide as much clarity as you can, and if there's a question we can't get an answer to (client or ML), make sure someone is assigned to figure it out.

We will wrap up the meeting by laying out clear next steps. We'll make sure all to-dos have an owner, and if possible set a meeting then/there. We will allow time for the team to process all the information we took in, and come up with additional questions we'll need to ask next time.
Product Strategy will typically wrap up with a hand-off of all deliverables. It's best practice to run through the deliverables with you as the client, and to answer any questions you may have.
Some helpful resources
Stay in the loop with our latest content!
Select the topics you're interested to receive our new relevant content in your inbox. Don't worry, we won't spam you.
Let's start a conversation!