Press Release
Michigan Software Labs named West Michigan's 2019 Best and Brightest Companies to Work For®
April 8, 2019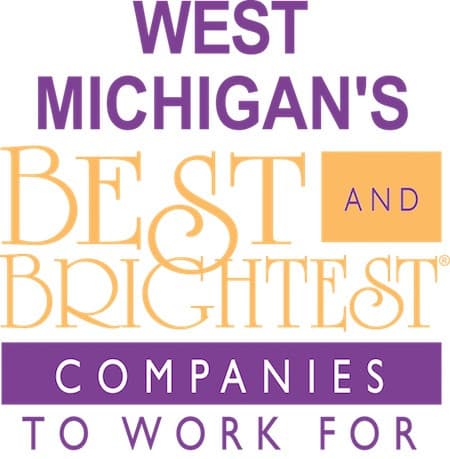 GRAND RAPIDS, Mich., April 8, 2019 – Michigan Software Labs, a software development company, has been named as one of West Michigan's 2019 Best and Brightest Companies to Work For®. The award recognizes companies that display a commitment to excellence in their human resource practices practices with an impressive commitment to their employees. The program is presented throughout the U.S. by the National Association for Business Resources.
"We are extremely honored to be named one of the Best and Brightest Companies to Work For," said Joshua Hulst, co-founder and managing partner at Michigan Software Labs. "For nearly 10 years MichiganLabs has been developing custom software and apps for our clients. Our success ties directly to our team and the collaboration that exists. This award is a testament to how well we work together as a team."
Michigan Software Labs is headquartered in Ada, Michigan, and employs software developers, UX designers, and project management professionals. The team has a passion for solving business problems that drive success for their clients.
About "West Michigan's Best and Brightest Companies to Work For®
The Best and Brightest Companies to Work For® is a program that gives businesses an opportunity to gain recognition, showcase best practices, and demonstrate why they are a great place to work. The program is presented annually in several markets, including Atlanta, Boston, Chicago, Dallas, Detroit, Houston, Milwaukee, San Diego, San Francisco Bay Area, West Michigan, and throughout the country. West Michigan winners will participate in an awards gala on Tuesday, May 7, 2019 at the JW Marriott in downtown Grand Rapids.
About Michigan Software Labs
Michigan Software Labs develops custom mobile, web, and Internet of Things (IoT) software for clients ranging from locally owned businesses to Fortune 500 companies. Recognized as a leader in UX/UI design, with more than 5 million end users to date, Michigan Software Labs was named one of the Top UX Design Companies in the U.S. by Clutch in 2018.
###
Michigan Software Labs creates software your business can build upon. Learn more about us at www.michiganlabs.com or follow on social media @michiganlabs.
Stay in the loop with our latest content!
Select the topics you're interested to receive our new relevant content in your inbox. Don't worry, we won't spam you.
Let's start a conversation!