Team
Alivia Howell named Delivery Practice Lead at MichiganLabs
February 11, 2021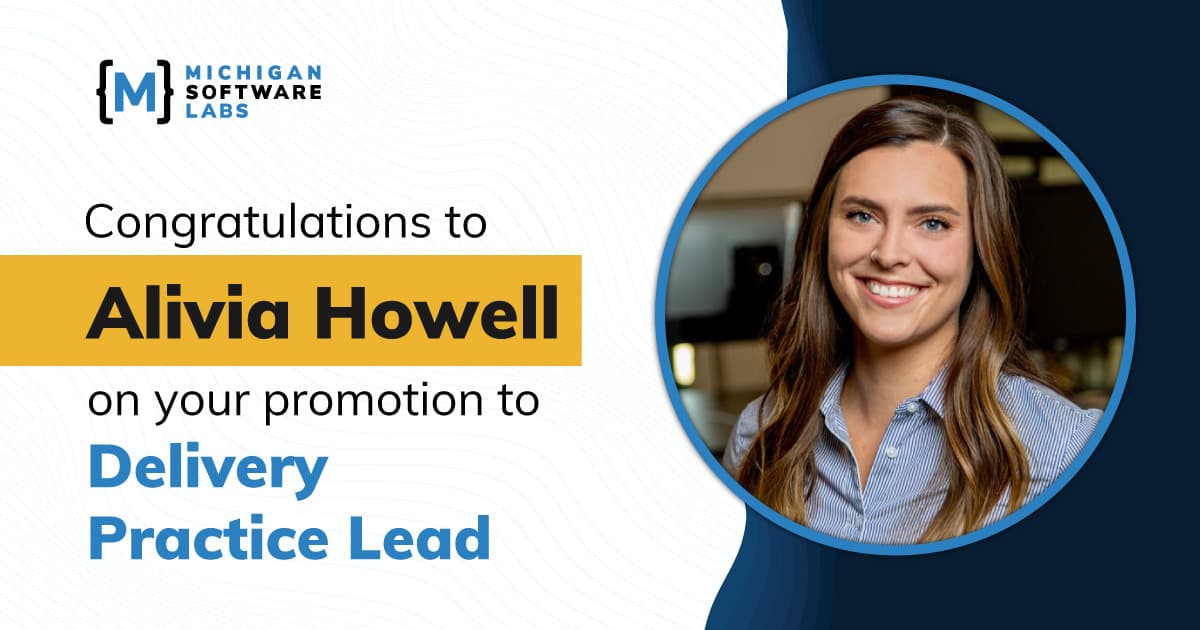 Alivia has been named the Delivery Practice Lead and will join the leadership team.
"We are so grateful to have Alivia as the Delivery Practice Lead. She lives out our core values and is a joy to work with. We are excited about her future at MichiganLabs." said Josh Hulst, Managing Partner at Michigan Software Labs.
With a mind for technology and soft skills that allow her to organize and lead teams, Alivia was born to solve software challenges. But, first, there was college. While attending Grand Valley State University she bounced between technical majors before landing on mathematical statistics. Along the way, she enrolled in a C++ class that would spark an interest in her future career. That's when she began to take an interest in "what's under the hood."
Out of college, Alivia worked as a healthcare building automation solutions architect at Honeywell International Inc., and as a business intelligence analyst/project manager at Spectrum Health. In the latter role, she architected and implemented an agile-hybrid workflow process, actively participated in team roadmap, strategy, resource allocation, and growth activities, and facilitated meetings with business stakeholders.
Alivia's choice to work at MichiganLabs was based on the great culture, talented teams, and the ever-changing challenges she would face. For her every project offers a new and intriguing puzzle to solve. In the role of delivery lead Alivia loves being there to organize, bridge communication, and brainstorm solutions.
When not problem-solving at work, Alivia enjoys cooking, volleyball, and playing with her dogs, Marley and North. A recent first-time home buyer she has been keeping busy doing DIY projects with her fiancé, Tyler.
Stay in the loop with our latest content!
Select the topics you're interested to receive our new relevant content in your inbox. Don't worry, we won't spam you.
Let's start a conversation!