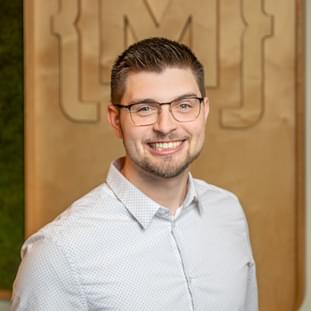 Jesse David
Software Developer
Jesse can't recall a time in his life when he didn't love technology. As a kid, he enjoyed figuring out how the latest gadgets were put together. He imagined a career building machines with his hands before realizing how much the software within them could empower his creative side.
After initially focusing on engineering at Grand Valley State University, Jesse switched his major to computer science. It only took a few programming classes for something to click. From that point forward he knew his career would be in software development.

Prior to MichiganLabs, Jesse consulted with a medical devices company. Using augmented reality, his team developed a 3D space-planning tool that could be integrated into Microsoft HoloLens.
As a software developer at MichiganLabs, Jesse is excited to be part of a growing company that embraces constant learning. For him, it's a joy coming to work each day, working with talented people and, as he says, "being part of something great."
Outside of work, the former theater buff likes spending time with his family, playing guitar and piano, and competing in triathlons. So far, his greatest accomplishment is completing a half Ironman—1.2 mile swim, 56 mile bike, and 13.1 mile run—a true test of his physical and mental endurance.
Personal interests
Theater
Family
Music
Triathlons
Let's start a conversation!