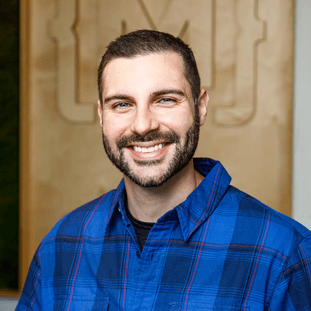 Henrick Ferraresso
UX Designer
Growing up in the late 80s and early 90s, Henrick was a big fan of just about any electronic product: from microwaves to personal computers. What he couldn't understand is why some of them were so difficult to use. He kept asking himself, "Why do we have to adapt to them…why don't they adapt to us?" It's a question he continued to pursue in college and throughout his career.
While studying industrial design at Universidade Estadual Paulista in Brazil, he got the opportunity to work as a web designer for a custom software company. While there, he began to discover ways to take the friction out of the user experience. Helping people take less time and effort to solve problems became a defining career goal.
In his quest to turn complexity into simplicity, Henrick became a design lead at Brazil's largest private bank. With over 65 million clients, innovation and security were his foremost responsibility. One notable accomplishment was helping to modernize the company's payroll loan sales system.
As a UX designer at MichiganLabs, Henrick likes being part of a culture that encourages growth, both as a professional and as a person. Every member is committed to giving their best. After being fully embraced right from the start, he could tell he was at a place where people are the greatest asset.
When not making himself better each day at work, he's doing the same outside of it. A few of his favorite pastimes are drawing comics, visiting art museums, hiking, and exploring new restaurants with his wife. In addition to self-improvement books, Henrick reads graphic novels, where he no doubt gets inspiration to create a few characters of his own.

Personal interests
Reading
Museums
Hiking
Reading
Let's start a conversation!