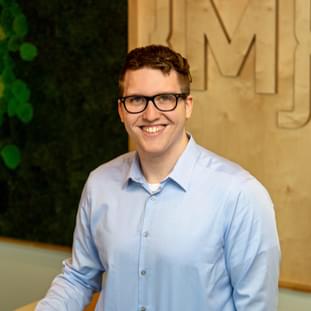 Grant Buhl
Software Developer
While Grant enjoyed using and building computers from a young age, it was his high school robotics team that ultimately piqued his interest in writing code. He began by learning enough LabVIEW to give his team a strategic advantage during matches. Before long, he was designing and developing actual robot code.
While attending Michigan Technological University, Grant joined Husky Game Development. The experience included producing a minimum viable product, providing stakeholder updates on development cycles, and working closely with UI/UX designers.
After graduating with a computer science degree in 2018, he began at BluJay Solutions. There, he learned the value of close collaboration—from fully understanding user challenges to communicating effectively with team members to find a solution. All in all, the experience taught him there's more to professional software development than writing good code.
Grant made the move to MichiganLabs for two main reasons. First, because the people you surround yourself with mean everything. Even during his interview, he could see a culture that emphasizes being humble, hungry, and smart. He's also a big believer in continuous learning. As Grant says, "When the challenges and tools for solving them aren't static, it no longer feels like work."
When not writing code, Grant enjoys cooking. Or maybe that's just his excuse for continually buying new kitchen gadgets and equipment. What started as a hobby in college has led to a passion for learning new recipes and techniques. Beyond his kitchen, Grant spends time jogging and powerlifting. These occasions conveniently double as audiobook time—often something out of the fantasy genre.
Let's start a conversation!