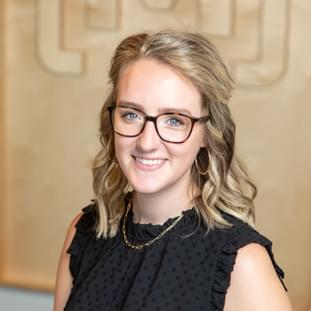 Cayte Leaman
Front Office Coordinator
Cayte naturally gravitates toward meaningful experiences that allow people to connect. Her gift for hospitality came in handy as a student at Cornerstone University, where she received a bachelor's degree in strategic communications with a minor in creativity and innovation. As the co-leader of Enactus, an international artisan market, she used her strategy and planning skills to connect vendors and pull off a successful event for all involved.
Before joining MichiganLabs, Cayte served as a marketing specialist for a local construction company. From overseeing graphic design to social media to arranging photo shoots, the role gave her an inside look at strategic communication, managing time and budgets, and how to function optimally within a team.
Cayte's appreciation for the world of technology grew immediately upon joining MichiganLabs. In her role, she supports those who make it possible. Along with front desk responsibilities, she manages the physical space, cultivating a warm, welcoming environment for team members, clients, and the community. She also assists leadership and oversees community involvement efforts.
Outside work, Cayte loves the outdoors and is always down for adventure. Look no further than her garden. While her plantings might not always be successful, she takes great joy in the process. A life-long learner, she's currently taking cooking classes to cultivate her knowledge of cooking and enjoy herself in the process.

Personal interests
outdoors
cooking
life-long learning
Let's start a conversation!