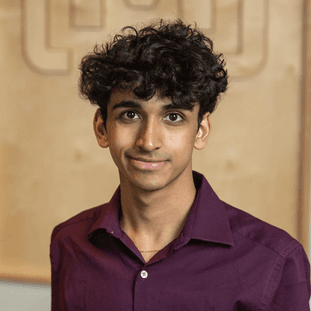 Rohit Kartha
Associate Software Developer
His love of music notwithstanding, Rohit has always favored the analytical side of his brain over the creative side. After taking a computer science course his freshman year in high school, he was quickly drawn by the ability to create and innovate through code. The problem-solving and critical thinking involved—not to mention the numerous possibilities to create a worthwhile product—made it a natural fit.
As a student at the University of Michigan majoring in computer science, Rohit stays busy in programming clubs, including Michigan Hackers and the Quantitative Investment Society, the latter of which focuses on developing algorithmic trading strategies. An accomplishment he's most proud of took place freshman year when Rohit joined an autonomous robotic vehicle project team. He worked on a program that could detect lanes in various images of roads.
On the work side, his most notable experience was a high school internship at the Illinois State Treasurer's Office. There he could witness the software project lifecycle and see how products can positively impact communities. This included Ag Invest, a project focused on making loans more accessible to farmers and facilitating agricultural growth across the state.
Rohit applied for the role of associate software developer at MichiganLabs after exploring several projects on our website. He also found that he aligned closely with our core values. During interviews, he could see a culture focused on personal and professional growth. As someone relatively new to the field, with a lot to learn, this was a key consideration.
Outside of work, Rohit likes to follow stocks, listen to podcasts (he's a big fan of the All-In podcast), and hang out with friends. Recently, he's been testing his kitchen skills and putting together a more consistent gym routine. The two consistent themes in his life are his love of music and growth mindset. Rarely a minute goes by that he's not involved in one or the other.
Personal interests
Stocks
Podcasts
Music
Growth
Let's start a conversation!