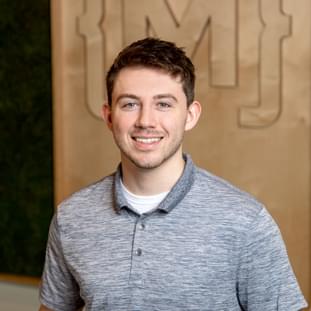 Kyle Ronayne
Software Associate
Kyle has always had an entrepreneurial side. One of his earliest ventures was coming up with a way to buy and resell shoes and clothing from online fashion stores. In order to purchase items that normally sell out in seconds, he taught himself how to program Python. While the business lasted several years, his technical skills continue to grow.
Currently, Kyle is finishing his last semester at Grand Valley State University where he's working toward a degree in computer science. The exposure to programming in school has only caused his interest in the subject to grow.
So far, Kyle's most notable work experience was last year when he interned with the Department of Justice in Grand Rapids. As a federal employee, he was able to see firsthand the role of technology in the court system.
As an Associate Software Developer at MichiganLabs, Kyle likes the variety of projects he gets to work on, and solving challenges with great people, including our clients. Like a lot of us, his goal is to improve lives by building great products.
During his free time, Kyle enjoys weightlifting, snowboarding, watching documentaries, and reading up on pitbulls. Despite the bad rap they get, he wants to get one. If Kyle has anything to do with it, that's going to be one friendly animal.

Personal interests
Snowboarding
Solving challenges
Let's start a conversation!